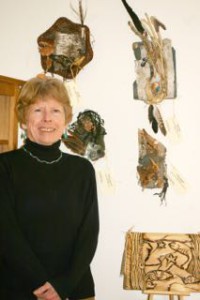 Karen Meisenheimer
Karen developed her inherent artistic talent at an early age. She earned a scholarship to Milwaukee's Layton Art School from ages nine to eleven.
Taking a practical track in her early college years, she majored in science (Biology/Chemistry); and after a stint doing R & D for the Wisconsin dairy industry, began her teaching career. Rudolf Steiner was a positive influence on her teaching methods. Her science classes emphasized critical and creative thinking skills in her students. She redesigned basic biology texts to incorporate those skills, as well as teaching science as a system, demonstrating the importance of connections. Later she worked with the University of California,  developing hands-on, interactive environmental education courses for elementary teachers, including a graduate level certificate program in Environmental Science.
She also worked with a San Francisco Bay Area, California nonprofit educational organization, Environmental Volunteers, designing a broad range of  interactive materials for teaching children, from kindergarten through twelfth grades about local environments.
Having completed her degree in art from San Francisco State University, Karen made time to continue her pursuit of working in mixed media. This exploration continues today. Karen's sculptures reflect her passion for and interest in the environment. She utilizes objects found in nature, as well as composing in clay, wood, metal, fibers and human-made recycled materials to produce unique works. Her art pieces are the sculptural equivalent of jazz.
Contact the artist to discuss commissioning works similar to those displayed or for the creation of a unique piece of art.
You may contact the artist for an appointment to view her work.
Hours: 8 AM to 8 PM by appointment
Call: (530) 650-9601
E-mail: kjfrogster@gmail.com